About us
Critter Control® is the leading wildlife control company and has been resolving wildlife and pest issues for customers for over 40 years.
Our highly-skilled professionals are adept at dealing with many of the nation's most bothersome pests and nuisance wildlife. Every day we resolve hundreds of nuisance wildlife and pest problems for homeowners, businesses, and industry. Whether you need to get rid of pesky raccoons, remove squirrels, rats, bats, snakes, or opossums from inside your home or attic, trap moles that are ravaging your lawn, or prevent pigeons from making a mess on your residential or commercial property, count on Critter Control® to get the job done in a safe, effective and humane manner.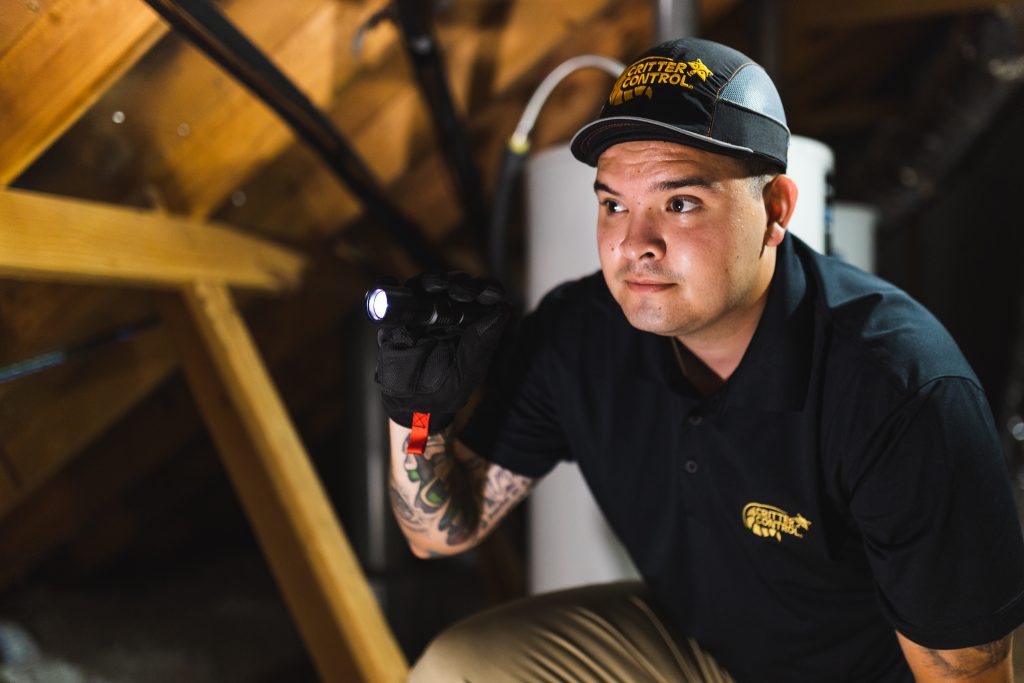 Founded in 1983 Critter Control® was developed around an entirely new vision for resolving nuisance wildlife and pest problems. We consistently practice humane wildlife management. We handle animals large and small, with a focus on vertebrate pests such as squirrels, rats, mice, snakes, raccoons, bats and a variety of birds.
Our services focus on getting rid of wildlife and pests, repairing any damage they may have caused – and then keeping them from re-entering your home or business.
We are ecologically responsible, ensuring that only environmentally sound solutions and humane animal removal techniques are used for all wildlife control, animal damage, and nuisance wildlife removal problems. We provide wildlife control and animal removal services for:
Critter Control pioneered the wildlife control industry. Before Critter Control, there were not many options for wildlife control and removal. Some pest control companies offered animal trapping services. There were even fewer that offered exclusions and remediations.
The Beginnings of Wildlife Control
Critter Control was founded in 1983 by Kevin Clark in Michigan. The business evolved from Kevin's father. He was a teacher who cleaned chimneys during the summer. Loaned a top hat and a few wire brushes, Kevin started working at Clark's Chimney Service.
Customers called often about birds or raccoons stuck in their chimneys. Kevin started offering animal removal from chimneys because of their trapping experience in high school. The first animal removal job was on January 17, 1982. He removed a raccoon from a chimney, installed three homemade chimney screens, and cleaned the fireplace and chimney.
Clark's Critter Control
Mr. Clark shifted from gears from chimney cleaning to wildlife removal services. Word-of-mouth spread naturally. A recurring theme was "we have called everybody, and nobody can help us." Clark's Critter Control was featured in Wood and Energy Magazine in April 1982. Clark's Critter Control was born in 1983.
Clark's Critter Control expanded services to include attic work. From 1984-1985, branches were opened in Michigan, Ohio, and Florida. Critter Control joined national associations like National Pest Management and Nuisance Wildlife Control Operators.
Incorporated in 1986, Critter Control started franchising in 1987 to help more customers. Critter Control provided training, support, and equipment financing to franchisees to help get them started. Critter Control averaged one new office per month over the next decade.
Critter Control Growth
During the 1980s, the need for wildlife control was only increasing. Critter Control was there to help. As a nascent industry, Critter Control created and defined best practices. Franchise owners helped develop training programs and standard operating procedures to safely perform wildlife removal.
Critter Control recruited people like Sean Carruth, Mike Dwyer, and Joe Felegi with degrees in wildlife-related fields. Dr. George Rambo, Dr. Michael Dofrey, Dr. Chris, and Marijo Christensen were members of the Vertebrate Control Committee and all opened their own franchises. They contributed greatly to our expanding knowledge base of pest and animal control.
Critter Control of Toronto was founded by Terry Thorsell in 1992. He worked alongside his son, Brandon, who is now the district manager in Toronto.
Critter Control started getting recognized as the industry leader. Industry trade magazines like Pest Control Technology and Pest Management Professional featured Critter Control. In fact, Pest Control Technology Magazine credited Critter Control with creating the "Category of Wildlife Control".
In 1990, Critter Control had ten offices in four states. There was a call from Houston, Texas property management to do a bat removal job in Little Rock Arkansas. Tom Brundgardt, the owner of the Kansas City franchise, traveled to Little Rock to complete the job.
Setting Industry Standards
Beginning in 1999, Critter Control® developed and implemented an internal certification process, the Vertebrate Pest Management Training, and Certification Course. The Vertebrate Pest Management manual was developed in cooperation with staff from Michigan State University's Pesticide Education Program, the Michigan Dept. of Natural Resources, and wildlife biologists from Critter Control®.
Critter Control® franchisees and technicians who successfully pass testing are recognized as "Certified Wildlife Specialists". Critter Control's certified technicians are awarded a certificate of achievement and recognized for their efforts within the company. Critter Control® remains committed to setting the highest standards in the industry in order to provide quality customer care.
The Industry Followed
The National Wildlife Control Operators Association (NWCOA) developed a professional certification program designed to evaluate the education and professional experience of wildlife control operators.
The first course was completed in September 2017, helping the industry improve standards. When selecting a nuisance wildlife control operator, be sure they have the proper state agency-issued licenses and permits and are fully insured including personal and property liability insurance, as well as workers' compensation.
Growing the Brand
On the 25th anniversary, Critter Control commissioned Franchise Business Review. Critter Control earned a top-25 franchise. 83% of franchisees said their business was exceeding their financial expectations! In the first Pest Control Technology Top 100 Pest Control companies, Critter Control was #27. In 2015, Critter Control climbed to #14.